International Women's Day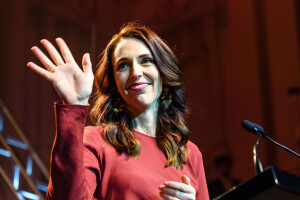 After being New Zealand's prime minister and head of the Labour party for five and a half years, Jacinda Ardern unexpectedly announced her resignation on January 19th, appearing very emotional in the news conference, stating that she "will not be seeking re-election" and that her last day in office was on February 7th.
Arden was elected at age 37 making her the youngest female leader of any government in the world at the time. Arden was faced with many challenges during her time as prime minister, just a few examples of the tragedies she confronted are a terrorist massacre, volcanic eruption and a pandemic, but was known to handle every hurdle thrown at her swiftly and definitively, exampled by her banning of semi-automatic weapons and reforming firearms laws, and implementing a world-leading alert level system to stop Covid-19 outbreaks. Hence, despite her unusually short term as PM, Arden will be known for much longer due to everything she accomplished. This is not to say that Arden and her government went without criticism, some supporters were concerned that Arden's government did not fulfil promises to do with increasing the housing supply and reducing child poverty and some said they did not do enough about crime and the struggling economy. However, most would agree that everything Arden accomplished massively outweighed the few criticisms she received, and can we say someone's really led a government if they have never had a few complaints? 
 
As for why she resigned there has undoubtedly been lots of speculation, with some saying the significant increase in threats of violence Arden has received from anti-vaccine groups angered by her mandatory vaccine and lockdown policies being the reason, and others saying the fact that recent polling leaving Arden's Labour Party behind the opposition National party must be a factor. However, Arden shut down these rumours by stating the increase of threats were not the reason behind her resignation nor were the decline in polls, but rather the mere fact that she feels "a fresh set of shoulders" is needed for these challenges. Chris Hipkins became Arden's replacement.

Arden is an inspiration to all, especially women, as she has gone over and beyond to grant all New Zealanders with the best opportunities and has proven time and time again that she will put the people first , and when it comes to confronting disasters, the pandemic for example, Arden's speedy and efficient response has proven to have a successful outcome, furthermore separating her from many other politicians who do not always act so swiftly and end up doing more damage than good. It is a known fact that politics can be a rather male dominated area and so Arden's success will hopefully inspire many more women to pursue a career in politics and never back down from their goals.  
 
When Arden was asked what message she would like to leave with New Zealanders, she responded by saying "I hope I leave new Zealanders with a belief that you can be kind, but strong, empathetic but decisive, optimistic but focused" and when asked what her plans for the future entail she said that her full focus is her family.  
As we celebrate International Women's Day, we recognise the achievement of Arden and the impact she had on New Zealand.
Written by Ella Pitt
Edited by Elizabeth Hunter